Trip to Tanzania: April 2017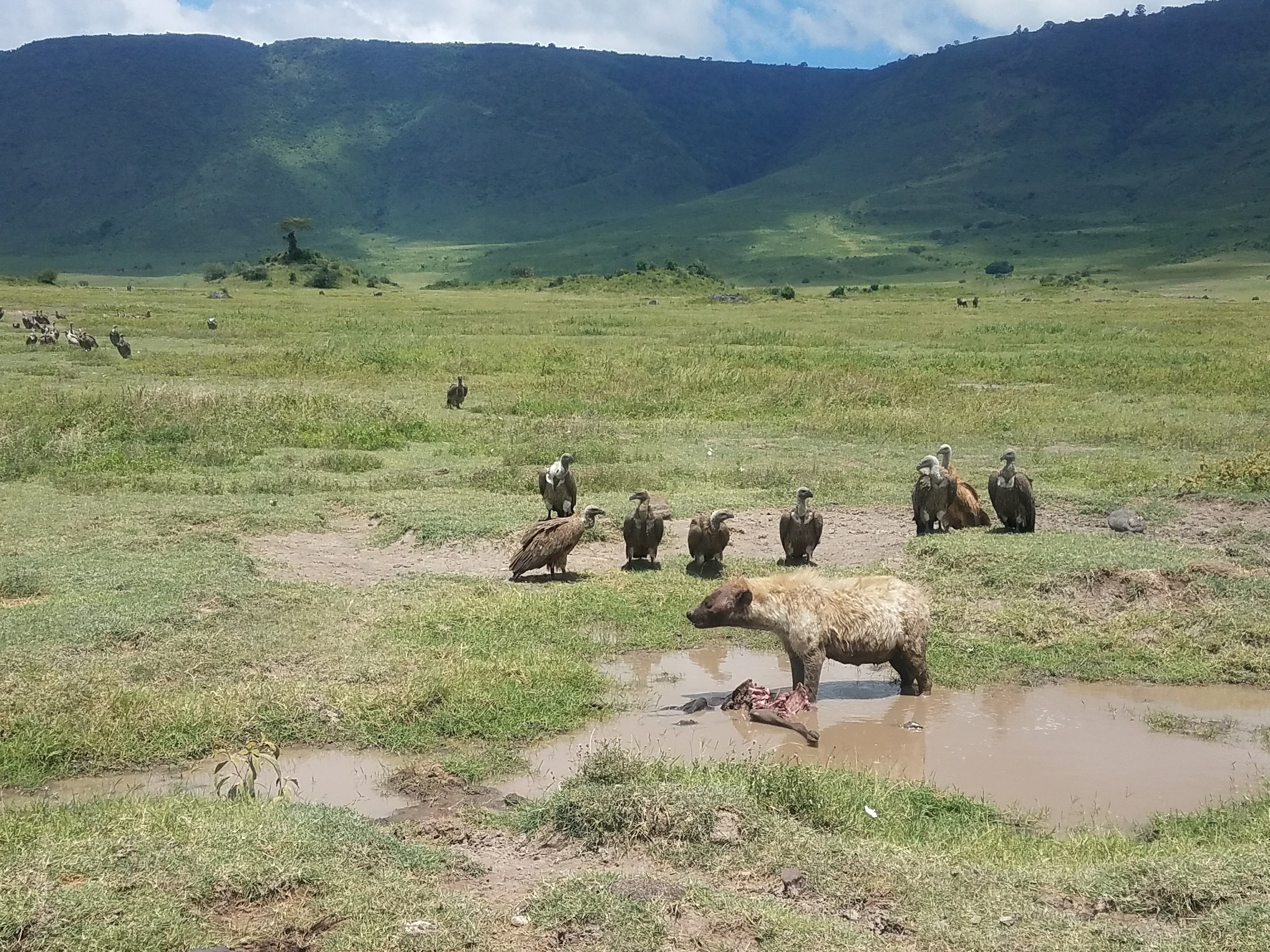 6 April 17: Philadelphia to Doha
Lisa drops me off at the Philadelphia airport at 8:40 am, two hours before the 10:40 scheduled departure. I am greeted at the Qatar Airways counter by two employees, both Asian—seemingly from different parts of Asia, but I don't know from where. I suppose I expected to see Arab women in burkas at the counter. One is in training and defers frequently to the other. The experienced employee looks down at my larger bag (an unconstructed high-tech fiber bag) and suggests that I might be able to carry it on. She checks with her supervisor to confirm. After filling out a membership card for a Qatar Airways benefits program—which seems mandatory—I am good to go. I do some quick extraction of liquids from the main bag, which I'd assumed I'd have to check, and put them with the liquids in my backpack. I come across a 6-ounce tube of toothpaste and decide to see whether I can get it through security. (I do.) I make it to the departure gate by 9:15.
We board at 10:20 and are ready for departure by 10:38. The plane is far from full. There are nine seats in each row, with two aisles dividing them into groups of three. I'm in the aisle seat of the leftmost group in my row, and a young woman is in the window seat. I see very few people in middle seats, and many of the aisle seats are empty.
Announcements are made in English and Arabic. Before we depart, a flight attendant passes out "refreshing towels" sealed in plastic envelopes, pouches containing in-flight socks and a sleeping mask (I'd brought my own), and then headphones.
We take off at 11:05 after a twenty-five-minute rain delay, which was much better than the two-hour delay for all flights that the announcer on WRTI-FM reported this morning. Thunderstorms are in the forecast, but looking outside I see nothing more threatening than a drizzle.
Some savvy travelers have selected seats in the center of the otherwise empty rows, and once we are aloft, they pull up the arm rests and stretch out across all three seats to sleep—presumably better than I'm able to, despite my superior sleeping mask and the 3/4 doughnut pillow I have wrapped around my neck. I see a woman stretched across the seats across the aisle sleeping with her mouth open. My back is sore, and anchoring my elbows against the armrests to keep my torso upright causes my arms to go asleep, though I'm not able to.
The couple in front of me have a lively two-year-old, who shouts and shrieks for half hours at a time. Several rows ahead of me is an older girl, perhaps four years old, who is playing a video game. Even with my earplugs in, I can hear her say, in an elevated voice, "Daddy, I did it again!" She repeats the phrase five or six times, followed by a downcast, "Then again, maybe not."
I generate a flurry of activity around my seat when I think I've lost my passport. Thoughts of being held in Doha flitter through my mind. Fellow passengers pull out flashlights, and some crouch on the floor looking under seats. I have a memory of moving the passport to a secure place, and I'd assumed that was a zipped pocket in my jacket or pants. After fifteen minutes of searching, I am relieved—and embarrassed—when I discover that I'd placed the passport in my neck pouch under my shirt soon after we boarded.
We're served three meals on the flight: a hearty lunch about two hours in, a "snack" about seven hours in, and a breakfast about ten hours in (two hours before we land). We touch down in Doha at 6:14 am.
7 April 17: Doha to Kilimanjaro
All of the signs and announcements in the airport are in English. The signs include Arabic translations, but the announcements are exclusively in English. Televisions are set to CNN, and I see many people staring up at them. I glance over and see that in response to Syria's use of chemical weapons against civilians, Trump has launched a missile strike against the airport from which the chemical attack had been executed. I realize it's probably not the best time to be in an airport in the Middle East.
I'm holding up okay given how little good sleep I've had over the past forty-eight hours. I do have a slight headache, and there's tightness in my chest. I hope it will go away soon. I take a Tylenol to treat the headache. I buy a bottle of water at a gift shop. They accept US dollars and euros, and at four dollars, the liter bottle seems a bargain. I'm surprised when the clerk asks to scan my boarding pass as part of the transaction.
On the flight to Kilimanjaro, I still see a lot of English-speaking white people. The two other people in my row are a British couple. We take off at 8:50 am, and at around 10:30 we're fed yet another meal. I have lamb with roasted potatoes and carrots mixed with peas, an unusual salad containing black olives and potatoes, and a tiramisu-like cake. I ask for a glass of white wine. After watching Birdman on the inflight entertainment system, I manage to sleep a bit during the last two hours of the flight.
We land in Kilimanjaro around 2:15 p.m. and walk in the midday heat across the tarmac to the low-slung main terminal building. There's no air conditioning inside the small airport, and I take off my travel jacket after a few minutes of waiting. Here I experience the byzantine ways of Tanzanian bureaucracy I've read so much about in Tommy's newsletters. The process of securing a visa involves a visit to three booths: one to pay, one to get a visa sticker, and a third to be fingerprinted. Each booth is staffed by two courteous men who keep their eyes down on the paperwork and talk to each other but don't interact with applicants. The exception is a lively round-faced, large-eyed employee at the first booth who quizzes people on where they are going and chides them when that don't have a safari in their plans.
Once I have my visa, I move to the next room and am required to put my bags through a security checkpoint. As I approach it, I have a clear sight line out the exit and I can see Tommy and the driver he has hired waiting outside. They wave at me, I put my bags on the conveyor belt, pick them up on the other side, and soon I'm with them. I hug Tommy and shake hands with the driver, Zablon, an affable, heavy-lidded auto mechanic from Moshi. I learn that he and Tommy are friends and met at Mama and Baba Karo's, where Tommy has stayed during his trips from Dar es Salaam to the village where he has done his linguistic work.
Zablon drives us in a rented Toyota—a Toyota with Japanese text on the instrument panel—and the luxury of air conditioning. As we drive along, I see some of the colorful vans called daladalas, which are the principal means of public transportation. Most of them have a theme of some type, established through images and text, which is often religious ("God Bless Us" with a Nike swoosh) and almost always in English. Some of the English is nonsensical in the context of a van ("Busy for Nothing," "Stop Noise, Work Hard"). Images of passé rappers (Eminem, Ice Cube) are also popular. I also see a lot of people in American t-shirts, and I find myself wondering whether the wearers realize what they say. A preteen boy wears a t-shirt reading "No Job / No Girl / No Money / Oh Shit."
The trip to the Rivertrees Country Inn takes about half an hour. We are greeted by an employee bearing three wet washcloths and three small glasses of orange/mango juice on a tray. This is a pleasant surprise, but as the trip progresses, I see it's a tradition at lodges that cater to Western tourists. The employee mentions that there is wifi in the rooms (the most reliable wifi we will have during the entire trip), and he warns us of monkeys on the premises. We proceed to the room, and I log onto the wifi and upload photos to my Google Photos account.
Tommy hears from Peggy that she missed her connecting flight in Amsterdam and will have to stay overnight and catch the same flight the following day. Since we have paid for "half board" for three guests at the inn, Zablon is able to have dinner with us. He looks at the menu and complains dismissively about "mzungu food." "Mzungu" (pl. "wazungu") is used to refer to a person of European descent—literally a "wanderer," which would have described the European explorers in Africa in the 18th century, when the term was first used.
After speaking in Swahili to the waiter, Zablon settles on roasted chicken and rice, but when it arrives, it's clearly a Western (seemingly provençale-style) dish. Before starting to eat, he looks around the room and then says something to the waiter, who points behind him. Zablon leaves the table and walks to another building. Tommy explains to me, "Tanzanians always wash their hands at the table before and after meals, and he was looking for the water pitcher and pail. I guess they don't have one because all the customers are Western."
This is Tommy's and my first experience with a meal in a lodge, and it introduces a few conventions we'll encounter repeatedly during the safari. The restaurants serve food that caters to Western tastes rather than risk exposing guests to the food traditions of an unfamiliar culture—one they've traveled across the globe to experience. Still, the food is safe and is well prepared, so it's hard to complain. The lodges rely on the tourist trade and take care to wash foods in safe water. We encounter sliced unpeeled tomatoes—something my travel doctor had warned about—but have no reason to worry about possible contamination.
After the meal, Tommy and I return to our room, and Zablon walks to a motel nearby to spend the night. (He could have stayed in Peggy's bed, but he didn't have his ID with him, and he felt sure the front desk would insist on it.) We see a baboon near our cabin, and he scurries as we approach. It's raining—the only night we'll have rain during the trip. Once we're back in the room, Tommy and I unfurl the mosquito nets surrounding our beds and get ready to sleep. I use the pitcher of safe water in the bathroom to brush my teeth. Once in bed, I busily update my Google Photos folder, and Tommy watches one or two episodes of "Mad Men." (He's on season one, and I keep asking him what's going on with Adam Draper.)
Peggy is stuck in Amsterdam, so we guys are on our own today. After breakfast in the open-air dining room, Zablon drives us into Arusha, a bustling, small city whose dirt streets are filled with cars, pikipikis (motorcycles), daladalas (passenger vans), and pedestrians. Our first stop is the bus station, where we pick up Agustino ("Agu"), the brother of Yohani from the village, Laghangareri, where Tommy has been doing his research. He's a handsome young man who resembles the son of some friends of mine in Wallingford—something about the eyes is similar. Tommy tells me he's a student at a forestry college nearby. We drive to the African Cultural Center, which has the largest art collection in Tanzania as well as what seems to be the largest gift shop. Zablon and Agu have never been in the center before, and Agu is surprised to learn the main building is filled with artwork. Tommy mentions that this is one of the cultural oddities of tourism in Tanzania. Although locals aren't explicitly banned from entering tourist sites, you rarely see locals in them. Still, the shop and the museum bore Zablon, who returns to the car. Agustino, Tommy, and I tour the grounds and walk along the spiral ramp of the museum, looking at the art. Our pace quickens as we move along.
Afterwards, there's talk of lunch. I suggest the idea of an authentic African place. Tommy is interested in getting Agustino into a movie theater (he's never been) and decides we should eat at the shopping center where the theater is located. It takes us twenty minutes to drive to the shopping center. Once we walk into the courtyard, we're surrounded by waitstaff from the various restaurants that serve the open-air food court. Although the courtyard is shaded, temperatures are in the 80s, and we're hot and hungry. Tommy and I settle fairly quickly on chana masala from one of the Indian restaurants. Zablon isn't interested in eating anything other than Tanzanian food and he and Agustino order a dish that isn't on any of the menus.
While waiting for the food to arrive, Tommy checks the movie offerings. There are two options: "Smurfs in 3D" and an assuredly lame comedy, "CHIPS." I'm not eager to see either of them. Tommy's and my food shows up fairly quickly, and we start eating. Zablon's and Agu's arrives twenty minutes later: two plates, each bearing a large fried whole fish and a huge mound of ugali, thick cornmeal mush. They each eat with their fingers, using the right hand only, because the left hand is considered unclean.
When the bill arrives, Tommy discovers that the traditional African food costs twice as much as our meals ($15 for the fish compared to $7 for the chana masala). He feels the restaurant is taking advantage of us, but he doesn't want to stir up trouble. Zablon and Agu ask what's going on, and when Tommy tells them, a pall falls over our mood. No one seems particularly interested in seeing a film at this point.
Instead, we visit two markets. The first is large, dark, and muddy, spanning a city block and covered by tarps, with the darkness interrupted by occasional shafts of light breaking. Tommy walks along the squishy dirt paths in his flipflops, which elicits maternal comments from the ladies staffing the booths. "Roll your pant legs," they say in Swahili. "You should buy some better shoes," says a shoe vendor. Tommy is interested in getting a "Tanzania" soccer shirt, and after Zablon negotiates a non-mzungu price from a vendor, Tommy swoops in with the cash. The vendor jokingly ups the price but realizes it's too late.
We move on to a second market, with broader, dry aisles. Tommy buys a drum from a kind man, and when I see he also has baskets for sale, I buy a small one for Lisa.
When dinner time arrives, we're still full from lunch. Agu catches a daladala to Ngaramtoni, the suburb of Arusha where he lives. (I can't remember now where he was headed), and Tommy, Zablon, and I return to the lodge. We eat dessert instead of a full dinner. Zablon, who is weary of all the mzungu food at the lodge, asks for a chapati, a traditional African pancake that originated in India. When it arrives at the table I notice it looks like a French crêpe—mzungu food.
Around 7:30 p.m., we leave for the airport, arriving around 8 pm. Peggy's plane has already arrived, and we're hopeful that she'll be out soon, since it took me only thirty minutes to get my visa yesterday. Thirty minutes pass; an hour passes. We wait outside with dozens of safari guides who are here to pick up tourists. As passengers exit the building, the guides hold up cards with names written on them. The passengers squint their eyes as they scan the crowd for their name. Nearly all of them are successful. One woman, having walked down the row twice, cries out, "Where's my guide?"
As we wait, I realize I'm clearly coming down with a serious cold. I should have stayed back in the room in bed rather than spending this time on my feet. After another hour (around 10:15 pm), she emerges with her bags and we drive back to Rivertrees. Zablon still has a 1.5-hour drive to Moshi ahead of him. We bid him farewell until after the safari.
The safari begins today. At 6:30 a.m., we walk to the dining room for breakfast. I'm not feeling well; my chest is tight with congestion, and my nose is running.
As we eat, our waiter mentions that our guide is waiting for us. He is Bernard, a tall, handsome, lanky man with a clever look in his eye. Like all speakers of Swahili, his voice is highly inflected when he speaks English, often extending up into the falsetto range. He asks how we slept and then mentions that he had stopped by yesterday afternoon at 2:00 p.m. and waited for us for a couple of hours. A few weeks ago, Peggy had contacted the safari company about a pre-safari day a trip to a coffee field, but after consulting with Tommy and me, she'd canceled it. The word apparently hadn't made its way to Bernard. Or maybe it had. Peggy mentions that she had canceled the coffee trip, and he says that he had just wanted to stop by to preview the trip before we left. It's still not clear what had happened, but Bernard doesn't seem upset to have driven to the lodge and wasted two hours waiting for us to show up.
We load up the safari jeep, which looks like all of the others we've seen on the road and at the lodge: a large boxy vehicle with seating for six and a roof that can be popped up to a height that allows passengers in the back to stand and gain a better view of whatever might be out in the field. In the back is a large tank of drinking water and a refrigerator. "So you can fill up your bottles," says Bernard.
Once we're on the road, our first stop is Arusha, where we'd spent much of yesterday. It's the starting point for most safari trips, according to the tourist's guide to Tanzania I've been reading. Bernard hasn't had breakfast, so we stop by a small restaurant, and he runs in to pick up something to go. We then stop by a supermarket, where Tommy, Peggy, and I pick out four 500 ml bottles of beer (two Safari lagers and two milk stouts), a six pack of hard apple cider. Confronted by long, well-stocked shelves of wine bottles, I grab a couple randomly—a South African shiraz and cabernet—and take them to the counter. Tommy notes disapprovingly that one of the bottles cost $22. (All of the lodges we visit will serve wine with dinner—and always South African wines—so at the end of the safari, both bottles will remain unopened.)
For our first day on safari we visit Lake Manyara National Park. Although much smaller than the better-known Ngorongoro Conservation Area, it's full of interesting animals and serves as a good starting point. Unfortunately, we don't get to see the tree-climbing lions, which are reputed to be a highlight of this park.
During our lunch break, we have a good view of the lake from the picnic area, and the surface is washed in pink from the hundreds of flamingoes resting on the water. Bernard slices and lays out fruits and vegetables. Tommy brings out his bluetooth speaker, and I find an album I'd loaded onto my phone: Urgent Jumping: East African Musiki wa Dansi Classics. Bernard knows the music and is amazed I have it stored on my phone. The album becomes the soundtrack for subsequent lunches. We drink some of the beer and apple cider we bought at the supermarket. (Later, Bernard thanks Tommy for "the soda.") Eating at a table near ours in the picnic area is a group of ten or twelve Israeli tourists. "The Jews," says Bernard, and we explain how "Israelis" might be a better way to refer to them.
This is the first of several long days. Bernard will show up at 7:00 or 8:00 a.m. (this is considered a "late start") and drop us off at the lodge (a different one each night) between 6:30 and 7:00 p.m. Dinner will be at 7:30, and afterwards we're usually so tired we turn out the lights around 9:30 or 10:00. Because we're near the equator, sunrise and sunset are around the same time (around 6:15).
The lodge for this first night is a grand place overlooking the beautiful Great Rift Valley. Bernard warns us that the lodge is run by a South African mzungu he doesn't care for. We pull up to the covered entry, and the lodge staff gather around our safari car. Four Maasai girls dressed in traditional costume begin singing as we get out. The South African, named Paul, ushers us past them and says, "The Maasai are celebrating your arrival." The male staff pick up our bags, which we had hastily and only partially put together before we arrived, and follow us to the reception area, where we are given rolled wet hand towels and small glasses of juice. As we check in, the staff remark on Tommy's ease with Swahili. I say, with mock pride, that I know some Swahili and rattle off my full vocabulary: pikipiki, daladala, and shuka.
The lodge is rustic, but well appointed, designed with well-heeled wazungu in mind. Our room has two showers—one indoors and the other outdoors, overlooking the Rift Valley—and a large soaking tub. We arrive for dinner at the early end of the 7:30 to 9:00 window we'd been given. Because it's the end of the spring tourist season, we're the only ones in the restaurant, and the service is efficient. Tommy and Peggy get into a disagreement over the confusion that lingers over the multiple guides we have lined up for the visit to the Hadzabe village in a couple of days. (The safari company requires that we have a guide they have arranged, but Tommy wants an acquaintance from a nearby village to show us around.) As they continue to talk about it, what seems like a disagreement about a minor problem is becoming something larger. When the discussion devolves into an awkward silence, I say, "Did I tell you about the dogs and the trip to Memphis over Christmas?"
We have breakfast on the patio of the lodge, looking over the "infinity pool," which is a broad swimming pool with no visible rim around three of the sides. Beyond the pool, in the distance, we see the escarpment on the left and the valley on the right. The breakfast buffet includes beef bacon and beef sausage, which I imagine is served to meet the dietary requirements of Jewish and Muslim tourists. Bernard shows up, and we invite him to join us, but it's clear he doesn't feel welcome by the management—and he's probably right. He walks out to the infinity pool and asks an African staff member to take his photo on his phone as he stands in front of it.
We drive to Karatu. In the center of the small town, the bustling dirt streets are lined with shops. Tommy introduces us to the owner of a small electronics store where he had purchased a small solar-energy system for the house in the village. The owner had driven out to Laghangarari and installed it, so Tommy knows him well. At a small market next door, we buy a corkscrew for the wine bottles. We climb back into the safari jeep and drive a couple of blocks to the Karatu transportation center. Tommy wants us to see the kind of jeep he rode on top of to get to the village. While weaving through the daladalas and jeeps, we're approached by a young man, who addresses Tommy enthusiastically. I assume he's a wild-eyed beggar, but after we leave, Tommy explains that he recognized Tommy from the many times Tommy had been waiting for cars and daladalas. White people stand out in rural Tanzania. "Tommy, you're a celebrity," I say, half joking.
After leaving Karatu, we drive to the entrance of the Ngorongoro Conservation Area. Nearby, there is a lookout point where we can see the entire crater, and we ask someone to take our photograph. Bernard points down into the crater to trace our path for the day. We'll be moving from the left, the sole entrance to the crater, to the right, where we'll be having lunch.
This is the best of the safari days. The gruesome highlight is seeing a hyena pulling apart and eating the remains of a baby wildebeast while protecting it from the six or seven vultures sitting around it in a semicircle, awaiting the leftovers. A few minutes later, Bernard spotted a distant pack of lions that had killed a hippo and were defending their food from some twenty to thirty hyenas.
Bernard has keen eyes. As he drives the jeep along the dirt path, he occasionally takes a quick glance to his left, then slows down and takes another couple of quick glances, then stops. He points. "See, there in the distance? A rhinoceros." The three of us squint in the direction of where he's pointing. "Here, use the big machine." He extends the binoculars to me. I peer through the binoculars and adjust the focus, and I see, lying on the grass half a mile away, a rhinoceros. The black rhino is endangered and sightings are rare, so this is a special treat.
"The big machine" is a Bernardism we all quickly adopt. Early on, we also learn that when he says, "This stop will be a good time to check the air pressure," he means that there will be bathrooms available.
Near the center of the crater, we see a female lion lying in the grass ahead of us, near the side of the road. Two other safari jeeps, driving toward us, have already stopped. As we pass, the lioness doesn't move.
Having traversed the crater, we have lunch in the car in a clearing near a pond. Bernard says the birds in the area are very aggressive, and if we eat outside, they'll pluck the food out of our hands. This lunch doesn't suit Peggy: cold pepper steak on rice. She ends up eating a small bag of trail mix.
The lodge this evening—an "ecolodge"—is a long distance from the Ngorongoro crater, in a beautiful, mountainous area. When we arrive, we're told that we must be escorted by staff after dark, presumably to protect us from wild animals on the property. We descend a steep hill to our cabins, which are domes covered with canvas but have fine amenities. Because the altitude is high, it's chilly, and there's no need for mosquito nets over the beds.
I'm feeling pretty sick. My lungs are so congested I can't make it up the hill to the dining room without taking a few breaks to catch my breath. I begin to worry whether I have bronchitis—or even pneumonia. I notice Peggy has started coughing, and from this point on, I'll get better while she gets worse—and ends up far worse than I had been.
Before dinner, we have free drinks in the bar in a building adjacent to the dining hall. The bar menu features single-malt scotches, and Tommy and I order a couple of them and Peggy selects a glass of wine. When we're called to dinner, we move to the dining hall next door. We eat at communal tables. The chief of staff, named Zablon, sits to the right of Tommy, and they have a good conservation in Swahili. A grizzled white South African sits down across from me, next to Peggy. He's a construction manager for the company that owns the lodge. He explains that he's there to work on a few things. I miss a lot of the conversation because the room is loud and the tables are wide, so he's sitting four feet away. I hear him say that each of the lodges the company builds is different, and this is the only one with domed cabins.
After dinner, Tommy returns to the bar and talks with the bartender. A staff member, carrying a spear, escorts me back down to the cabin I'm sharing with Tommy.
11 April 17: Oldupai Gorge, Maasai village, Ndutu area
This is the Day of Dust. Had we known in advance how it was going to play out, we probably would have made some adjustments in our itinerary. The idea was to drive north to the Ndutu area, near the Serengeti, where it was thought we'd see hundreds of wildebeast in the middle of their seasonal migration.
The day starts with breakfast in the dining hall where we'd had dinner last night. We have a long ride ahead of us back around the crater, and Bernard wants to get an early start. When we have all of our bags assembled near the jeep at the top of the hill, I remember that I put my money pouches in the safe in the room. (The safe seemed so novel, I felt I had to use it.) Rather than walking back down myself, I send Tommy, since my breathing is still labored. We leave around 7:00 a.m. and spend the first hour and a half retracing our path around the crater.
We arrive at the Oldupai Gorge anthropological site around 10:00 a.m. I did little reading about the safari trip before leaving, so this stop takes me by surprise, and I don't realize the significance of where we are until we visit the small museum and I see the casts of footprints and the story of the Leakeys. Tommy, Peggy, and I spend half an hour reading the panels in the museum, and Bernard pokes his head in to say we need to move along. The three of us wish we had scheduled more time at the gorge and made arrangements for a walking tour of the dig site. On the way back to the jeep, I see a lizard on a stone wall and as I look around realize there are many small lizards darting around the dirt.
We drive about twenty or thirty minutes to a Maasai village. Bernard tells us that there's a $20-per-person charge to visit. When we arrive, the tour guide, a Maasai man wearing a thin, colorful blanket over his shoulders—a shuka—and carrying a herding stick, approaches us, and a crowd of villagers assembles. He is a tall and stately man—about forty years old—and addresses us in English, which he learned in boarding school. He tells us that it will cost $20 per person for the visit, and when I pull out the three bills, he hands them to the elder of the village, who examines them, one by one, then nods. Our guide tells us the money will help fund the water supply for the village. The adults, all dressed in the traditional colorful shukas, perform a welcome dance for us, the men on the right and the women on the left. While singing, the men approach us in two lines and then retreat. Once the dance is over, the guide motions to us to enter the village, which is loosely walled by low barriers of dried shrubs. We're then encouraged to join the men and women in a jumping dance. Tommy and I are pulled into the ranks of the men, and Peggy joins the women. One of the men roughly pulls me in line and hands me a long staff. I jump along side one of the Maasai. Bernard, who himself is a Maasai, has his own jumping session. He smiles broadly. Through all of this, the Maasai sing and jump with blank expressions.
The guide then takes us to a low-lying hut that's about twenty feet long, ten feet wide and five feet high. It's made out of twigs and has a layer of plastic-fiber cloth on the interior, presumably for insulation and perhaps for protection from the rain. We bend over to make it through the low, narrow entrance. Inside, it is very dark. The guide tells Tommy to sit on one bed, me on another, and Peggy on a stool. As our eyes adjust to the darkness, I see a small fire on the ground in front of us. While fussing with the coals, the guide describes the lifestyle of the Maasai, how they move from place to place, how the smarter children (such as himself) are sent off to boarding school for education, how the men can have several wives, how their diet consists of meat, blood, and milk. I ask how long they have been in this current village, and he says several years.
We exit the hut and walk to a larger structure near the back of the village to see the kindergarten class. The children have an established routine for tourists. First, they sing a song, then one stands at the front of the room and leads a call-and-response recitation of the English alphabet. They also do a math recitation and another exercise related to Swahili.
The final stop is the display of village crafts at the center of the village. Our guide has made it clear that we're under no obligation to buy anything, but he says something about a tip in lieu of a purchase. He and I start walking around the circle of crafts—carvings, bead necklaces, bowls—and I pick out a carved rhinoceros (the guide said it was made by his brother). I ask him how much it is, and he says that we'll talk about that once I've picked out everything I'm interested in. I keep the rhinoceros and select a carved giraffe, and a couple of bowls made out of beads. After I make these selections, the guide seems ready to move on. We pass Peggy, who is looking at jewelry with one of the women. "Are we ready?" she says. "I guess so," I say. The guide leads us away from the merchandise. After walking thirty feet, we stop and turns to face me. He says the rhino is twenty. Tommy says, "Twenty thousand shillings?" and the guide shakes his head and says, "No, dollars." Tommy raises his eyebrows. It does seem expensive. The giraffe is 15, the big bowl is 20, and the small bowl is 15. I tell him I don't want the large bowl, and he takes it from me, hands it to the woman, and says, "This goes back." I then pull out $50 and hand it to him. Peggy then settles her account with the woman. The guide escorts the three of us out of the village to the jeep, where Bernard is talking, in Maasai, with several of the village people. We pile in and move on.
We drive to the Ndutu area—"the bush," as Tommy calls it—where, according to the itinerary, we might see hundreds of wildebeast as they migrate. There are also hopes for a cougar or leopard. We see few wildebeast but several groupings of giraffe and hundreds of gazelle. At 2:00, Bernard parks the jeep and we set up chairs and a table under the broad cover of a tree. Not far off in the distance, we see five or six elephants of various sizes and ages climbing a hill. Today's lunch is a bit more vegetarian friendly. There were a skewers of meat and vegetables, including one of potatoes. I play the East African dance music on my phone, ported to Tommy's bluetooth speaker. After we eat, I set my phone up on the jeep to take a timed photograph of the four of us, and that works fairly well. Bernard is intrigued and we try to figure out how to do something similar on his phone, but we can't find a timer setting.
The remainder of the afternoon is taken up with a long, dusty ride along the bumpy dirt roads of the Ndutu. Because of the heat, we need the windows open, and the red dust kicked up from the road blows freely into the car. Peggy is highly allergic to dust, so she covers her face and nose with a kerchief. As we traverse gullies and rocks, we are tossed up and down and from side to side.
We occasionally cross paths with other jeeps, and Bernard stops for each and talks with the driver about what they've seen. Not much. The drivers speak Swahili, and after one of these exchanges, Tommy says, "Bernard, what was that word you were using for lion? It wasn't simba." Bernard explains that it's the word for "whiskers." As in, "We saw two whiskers back there near the pond." Safari-guide slang. Late in the afternoon, we drive cross country, through the brush and down and across small ravines. Bernard is lost momentarily as we try to get back on the road, but his sense of direction is strong, and before long we've back on the two bare strips of dirt that constitute the road.
It is a long afternoon without sightings of new animals. Yes, there are giraffe and gazelles and the occasional wildebeast, but we have seen all of these before, and safari fatigue sets in. Around 4:00, we start the long drive back to tonight's lodge. As the sun is starting to set, we have reached Karatu and turn off onto a dirt road. Bernard goes a bit too far, then backtracks, and we finally pull into the parking area next to the main building. A couple of men come out. They seem puzzled as Bernard talks to them. We're tired. Tommy says, "Hmmm. I think this is the wrong lodge." Peggy pulls out her itinerary, and while the lodge name on the itinerary is similar to the name of this lodge, it's clear Bernard has made a mistake. We get back into the jeep. "I've never heard of this lodge that's on the itinerary," he says. We drive back out to the main road and then take the road that leads to Mang'ola. After a few minutes, Bernard turns left, and we arrive at the correct lodge, the Oldeani Safari Lodge. We are stopped at a gate, and Bernard exchanges words with the guard. He is worked up. Later, I learn from Tommy that he had asked whether there were accommodations for drivers and was told no.
We get out, and the general manager greets us with his minion of bag carriers. Young girls in traditional Maasai dress stand on the steps and sing. The general manager says, "The Maasai are celebrating your arrival." It was a repeat of our experience a few days before, and it turns out this lodge is owned by the same company that owns the other. We are brought into the main building and introduced to the chef, "who will be preparing your meal this evening." We are given wet hand towels and glasses of juice.
Tommy remarks that the service staff in the lodges speak a "tourist Swahili" around us. Their form of welcome is an enthusiastic "Jambo!"—a practice not followed by the Africans Tommy knows—and they often toss out "hakuna matata" when a request is made of them. This becomes a running joke between Tommy and Bernard. Whenever we discuss a potential dilemma, Tommy says "hakuna matata," and Bernard replies, more slowly and with some gravity, "ha-ku-na ma-ta-ta." I don't know whether it's peculiar to Bernard or common to all Swahili speakers, but Bernard often repeats, slowly, the last words someone has said—in Swahili or English—perhaps to emphasize that he had comprehended them. "I'm going back to Oregon in the fall," says Tommy at some point. "Oregon in the fall," says Bernard.
Bernard leaves and seeks out a cheap hotel in Karatu. Peggy at this point is not feeling well. She's not sure whether it's an allergic reaction to the dust or something more serious. I'm feeling much better. Perhaps she has caught the cold I had. She stays in the room, and Tommy and I walk up a hill to the main building, where we enter a large dining hall with only a few diners. As we select food from a buffet, the chef is standing nearby.
This is the day I've looked forward to: the trip to the village where Tommy has been working for the past several months. It's called Laghangareri, which means "red rocks" in the local language. For the past few days, whenever Tommy has mentioned the name of the village, Bernard has repeated it, savoring each syllable: "La-ghan-ga-ra-ri."
Bernard picks us up at 8:30. As he has every day, Bernard has purchased boxed meals from the lodge for our lunch on the road. We take the road to Mang'ola, which then goes on to Laghangareri. We pass by a shack with "Lake Eyasi Cultural Tourism Reception Office" painted crudely on the side. Bernard stops and backs up. "We need to check in here," he says. He enters the hut, and five minutes later he comes out with a young man, about thirty years old. "This is our guide," Bernard says. "He must come with us." I get out, and the guide climbs into the back. As we set out again, the guide asks us questions to figure out why we're interested in seeing Laghangareri, and Tommy tells him about his research and the time he's spent in the village. Tommy mentions Mama Jaki, the woman who, with Yohani, owns the house Tommy has lived in. The guide says, "Yes, yes, I know Mama Jaki." All is well with the guide, and we sit back and listen to Tommy talk about various landmarks as we pass them along the way into the village.
Tommy tells us that Yohani is on a trip and is sorry he won't be able to meet us. When we arrive at Mama Jaki's house, we are met first by curious children—four or five years old—from the neighborhood. One of them runs off to get the adults. Mama Jaki invites us in, and all of us—including the local guide and Bernard—sit on couches arranged around the perimeter of the living room. The house is a modern frame house painted a bright mustard yellow, and the color is also used for the interior. People from the neighborhood stop by to greet us. Yohani's parents arrive. They speak to us in Swahili and Tommy or the guide roughly translate. I am repeatedly confused by a local custom where an elder is expected to say a particular phrase in response to a respectful phrase that means something like "I kiss your feet." The first time I miss this exchange, the guide prompts me, impatiently. By the end of the day, I'm better, but still not entirely comfortable with the custom. At one point, I enter the exchange with a man about the same age as I am, and someone says, "No, don't say that to him. You're suggesting he's much older than you are."
After an hour of visiting, Mama Jaki brings out several stainless steel pots with lids. This is lunch. There's a pot of beans, a pot of rice, and a couple of pots of freshly cut fruit—watermelon, mango, and papaya. Tommy mentions , that fresh fruit is brought out only for special occasions. The children are shy and peek around the doorframe at us. Bernard and the guide are encouraged to join us in the meal. Mama Jaki comes by with a pitcher of water and a bucket so we can wash our hands. Bernard is seated between Yohani's mother and another elderly woman. We ask him whether he'd like to move to the other couch. "I will sit here between these two mothers," he says in English. Half an hour later, the two women are speaking the local language—the one Tommy has been documenting—to each other, across Bernard. "Can you understand anything?" says Tommy. "I don't understand a word," says Bernard.
After lunch, the children are less cautious and come into the room. Mama Jaki has three children: a beautiful, rail-thin daughter, who is about eight, a younger son who is about five, and a baby brother, who is one. The brother is apprehensive of the wazungu, and Tommy mentions that the child often cries when he sees Tommy, because of his eyeglasses. The children are now sitting on the floor. Tommy pulls out a USB stick and plugs it into the 32" flat-panel television—the largest TV in Laghangareri, according to Tommy. He plays an instructional cartoon about malaria from the children's show Ubongo Kids. Bernard and the local guide go out to the safari jeep, where they'll stay for the next few hours. We have a picture taken of ourselves with Mama Jaki and her family.
Tommy has said he'd like to get a haircut while in the village, so we walk down the dirt road and are greeted by many people along the way. The barber shop is in a room at the end of a subdivided building. Tommy mentions that barbershop is in the room is where he first stayed when he moved to the village. At the other end of the building is a communal area with a television, where people can watch the news in the evening for a few shillings. When Tommy lived there, a lot of noise came from this room, and because there are no ceilings, the sound rose to the attic and moved across the attic to his little room. In between the communal room and the barbershop are a small pharmacy and grocery.
We walk into the barber shop, and the young barber greets Tommy warmly. I learn later that the barber plays guitar, and he's the one who needs the watch batteries I brought, to power his guitar tuner.
Another friend of Tommy's is sitting on a chair. He is Yonah and will accompany us for the rest of the afternoon. Tommy sits down in the barber chair, and as the barber pulls the apron around his neck, they catch up, speaking in Swahili. Tommy tells me later that the usual price for a haircut is the equivalent of twenty-five cents, so I wonder how he can make a living off this profession. Other friends show up and greet Tommy. One is wearing a pink baseball cap with a red crab stitched on the front. I look closely and see the words "Don't Bother Me / I'm Crabby" stitched around the crab. I wonder whether the young man knows what these words mean. Maybe he just likes the looks of the crab.
After Tommy's head has been shorn, he gives us a quick tour of the other shops in the building. The first is a small grocery. Two young women are chatting in the doorway, and one of them walks away as we enter. Tommy points out a few interesting items for sale—bags of rice and beans, cleaning supplies. We move on to the pharmacy next door, and the other young woman from the doorway is seated behind the desk. She promptly gets up and lets Yonah sit down for a photograph. The shelves are sparsely populated with over-the-counter medications in brightly colored boxes.
I'm struck by the stylish, attractive attire of the young people in the village. Tommy's friends have nice-looking leather shoes, and the clothing is fresh, with a modern cut. I'd expected something quite different.
At the end of the building is the room where villagers watch the news for a nickle. There are benches and a small television in the corner near the ceiling. We look around and the four of us—Tommy, Yonah, Peggy, and me—move on and cross the dirt road that runs through the village.
An elderly woman stops Tommy to greet him and say how the village is going to miss him. We walk a few more yards to a rustic church. Tommy helped fund the purchase of a water system, and Yonah points it out to us. A dried shrub has been placed in the center of the doorway—presumably to prevent animals from entering. Yonah removes it, we walk in, look at the backless benches and the spare alter. We sit on one of the benches, and Yonah takes our picture.
We walk back to the house. Bernard and the local guide are sitting in the safari jeep talking. Tommy suggests we drive out to the hot springs, and all of us—including Yonah—pile in. We drive along a dirt road out of the village and onto flat desert land that is bare, except for short shrubs and patches of grass. The red-rock bluff that gives Laghangareri its name is in the near distance, on our right. Soon we arrive at the hot spring, which is surrounded by a small pool and produces a slow trickle of water—which is quite hot. An athletic teenage boy is at the spring either bathing or washing clothes and is surprised to see our jeep pull up.
After chatting around the spring for ten minutes, we climb back into the jeep and drive on to the Mumba caves, which include what Tommy has heard are prehistoric drawings. Tommy mentions that these caves for some reason aren't known as a tourist destination. A herd of cattle and their young cowherds pass by the caves as we explore.
It is late in the afternoon when we leave the village. We drop off the local guide. Peggy and I are interested in buying shukas. Tommy instructs Bernard to pull off the road near a small shop where he knows we can buy them at a reasonable price. In the lodges, they have been fifteen to twenty dollars, but here they are five. The traditional color seems to be red, but Tommy steers us to the more unusual colors. I end up with a green one.
We proceed to this evening's lodge: the Kisima Ngeda Tented Camp. The lodge is owned by a Tanzanian-born German and his Argentinian wife. The man is off traveling. The woman, Noni, shows us around the property and walks us to our cabin, which is indeed a large tent inside a wooden frame.
We go to the bar at 6:00 p.m. and order drinks. There's bookcase of board games near our table, and as Tommy rifles through it, he comes across the distinctive yellow banana-shaped cloth bag that holds Bananagrams tiles. Tommy takes it over to the bar, and within a few minutes, he has the bartender and one of the waitstaff playing Bananagrams in Swahili on the bartop.
The dinner is huge: soup, rolled pork stuffed with spinach, mashed potatoes, and carrots. Bernard, who has been out getting the jeep washed, arrives late, and we are able to eat dinner with him for the first time. He has a pork allergy and is served fish. Peggy goes back to the room (she now has a bad cold), and Tommy and I talk to Bernard about his life back in his village.
He is a member of the Maasai tribe, and although his safari dress makes him appear Western, his homelife is that of a traditional Maasai. During his forty-five days off following our safari, he will be tending his wheat and corn crops. Tommy tells me later that he imagines he lives in a small hut with a tin roof. He has three children: a seventeen-year-old girl, a fifteen-year-old boy, and a 5 1/2-year-old girl. Tommy asks Bernard about the Maasai tradition of taking multiple wives, which we had heard described by the tour guide at the Maasai village. Tommy will mention later that it's also common among the Datooga, and he asked this question of Bernard because the tradition is in conflict with modern Christian marriage customs in Tanzania. Bernard is sticking with the traditional ways. He says he is ready to take on a second—presumably younger—wife. Only men who are fairly well off can do this, since it means setting up a second household for the new wife and the children he'll be having with her. Bernard says, "My two wives can compete in cooking for me," and laughs.
13 April 2017: Hadzabe village, blacksmith, farewell to Bernard
The accommodations of the tented camp are the most rustic of all the lodges we've stayed in, but there is indoor plumbing and a good shower. The frame of the cabin is wood, and the canvas, serving as roof and walls is fitted over the frame. We zip the canvas door open and shut. The bathroom in the back is completely framed out with walls. Peggy says, at one point, that it is her favorite of all the lodges—probably because it gives you the feeling you're truly camping. There is also a swimming pool, which we don't use.
Today we visit the Hadzabe camp—the trip for which we have two guides scheduled. Peggy and Tommy argued about this at the dinner table a few nights ago. Tommy has asked his friend Mariamu—who is a registered tour guide for the camp and a member of the Hadzabe tribe—to accompany us, but the services of the guide from the cultural center who was with us yesterday in Laghangareri have already been covered by the safari company. Peggy was concerned there might be conflict between the two guides. When we pick Mariamu up, it turns out they know each other. During the course of the tour, each speak up at different times with different observations. Hakuna matata!
The Hadzabe people are of interest to researchers because they live as hunter-gathers–one of the few hunter-gatherer cultures still in existence–and their close proximity to the original homeland of homo sapiens reveals information about early humans. At this point there is only a small number of them left.
As we walk into the village, we see a group of men wearing animal skins. Atop the head of one of them is something Tommy describes as a "baboon headdress," which looks like a punkish white afro sticking straight up from his skull, Don King style. We spend most of our time with the men of the tribe, who walk us quickly from one place to another as they show us their various activities. The women and the children are gathered near the display of jewelry, pipes, and other souvenirs.
This tour is in sharp contrast to the tour of the Maasai village, where a kind but stern man speaking good English walked us through a controlled, scripted tour and was persistent about the purchase of souvenirs at the close of the visit. The Hadzabe dash about with random abandon, leading us from one activity to another. They speak to us in Hadzane, a language distinguished by its clicks. Tommy mentions that even if they know Swahili they will speak Hadzane, since its unusual sound is of interest to tourists. First, we watch them make fire with a dowel rod, a block of wood, and some grass. One of the men spins the rod between his palms and a small trail of smoke rises from the block. We are encouraged to try. Tommy is the only one bold enough to accept the challenge, and after a couple of failed attempts, the man in the baboon headdress grabs the dowel rod, shakes his head, and spins the dowel rod with an exaggerated downward motion. Clearly the rod has to be pushed hard into the block of wood as it is being spun. Tommy tries again, but it is clear the fire isn't going to happen.
We move on and notice some two-stringed musical instruments hanging on a tree. The baboon man walks over, takes down one of the instruments and a bow, and plays a tune. Tommy takes down one and plays his own improvised tune. Nearby are some gazelle skins and gazelle meat jerky drying on a line. A man crouches and stretches a fresh skin on the ground using crude wooden stakes made from sticks. The baboon man gestures to us to follow him. He walks to a clearing with a stump at the far end, thirty meters away. The man picks up a longbow and a short wooden arrow, aims it at the stump, releases the arrow, and it hits its mark. We each have a turn—even Peggy, who aims hers with a high trajectory, and Bernard, who showboats with a fancy stance. None of us hits the stump.
Next, we are led to a large baobab tree. The Hadzabe have hollowed out the bottom of the tree to use for shelter. A large door has been carved into the side of the tree, and to enter, you have to make a short jump from the door to the floor inside the tree. Two of the Hadzabe hop in, then Tommy and Bernhard join them. The local guide shows us how to eat the baobab fruit. We move on to the display of souvenirs: jewelry—mostly beadwork—smoking pipes, and carvings. There is no pressure to buy, and the prices are reasonable. We buy some bead bracelets and necklaces. I select one with a small dik-dik horn hanging from the center. Tommy picks out another with a dik-dik horn and jokes that maybe they came from the same dik-dik.
After leaving the village, we drive a short distance to the small, open-air workplace of a blacksmith. He looks about fifty years old and sits on the ground in front of a small pit of coals. Next to him is his wife—his second wife, we were told—a woman who looks about thirty-five. On her lap is their son, a chubby toddler who occasionally gets up, walks around, and interacts with the visitors. His sister shows Peggy her English language text book and proudly demonstrates her ability to read in this new language.
The blacksmith picks up a piece of plumbing—some kind of brass pipe fitting—and puts it in a large metal spoon with a long handle. After thrusting the spoon into the coals, he signals to his wife, who starts working a small set of bellows. Five minutes later, he pulls the spoon out, and we can see the molten brass in its bowl. He picks up an ingot mold and pours the brass into it. A few minutes later, he dumps a short brass bar out of the mold. It's about twelve centimeters long and one centimeter in diameter. The next step in the process would be to hammer out the brass into bracelets. The ignot is pounded to about a quarter-inch in diameter, and intricate, precise cross-hatchings are carved into the flat outer surfaces. The metal is then cut and bent into bracelets of various sizes. A rack about twenty feet from their work area displays the results, in both brass and aluminum. Tommy owns several of these bracelets, and he has been wearing them through the trip.
We leave the blacksmith's and make our way back to the tented camp for lunch. Throughout the trip, whenever Tommy has introduced us to his friends, there has been some confusion because he has been using his first name, Richard, in Africa, and I've been using the same name to avoid any possible awkwardness over "Dick." So, two Richards. This puzzles the Africans. "Why would a father and son have the same name?" a grizzled villager asked me in the living room of Mama Jaki. Men in this region use patronyms: the names of a man's father, paternal grandfather, and paternal great-grandfather are appended to his given name. In Tommy's case, this would yield the nonsensical "Richard Richard Richard." Women use a similar system, but after they become mothers, they are named for their first child—hence "Mama Jaki," whose first child was named "Jaki."
Bernard has been distinguishing us by calling me, in Swahili, "Big Richard" and Tommy "Little Richard." After we leave the Hadzabe camp, Tommy has an idea. "We'll call you 'kiboko,'" he announces in the jeep. "What does that mean?" I ask. Bernard and Tommy tell me it is a fierce animal—one of the most feared animals in Africa. The hippopotamus. For the rest of the trip, I am Kiboko, and instead of befuddlement, which was what we got with the two Richards, there is laughter.
The lunch at the tented camp is one of the best meals of the trip: fettucini with ragu, vegetables, salad, and a fruit cup. Once again, Bernard eats with us, which also makes it a special event. Noni, the charming Argentinian co-owner stops by frequently to see how we are doing and sits down to talk with us before we leave. We can hear monkeys scurrying across the roof over us, and one enters the shed and cautiously approaches our table. Bernard shoos it away.
The safari over, our next stop is the place we started, the Rivertrees Country Inn, where we will be spending the night. The trip to the lodge is longer than I remembered, and the traffic is heavy as we drive through Arusha. Peggy mentioned a few days ago that she'd like a safari-company t-shirt like Bernard's, and he phoned the office the day before to confirm. We pull off the main road into the parking lot of the office, and the office manager comes out with a couple of shirts. "Medium is all we have," he says. Peggy wanted a large. We take the mediums. I end up with one of them, and Peggy takes the other, which she eventually gives to Tommy. The office manager and Bernard have a brief conversation in Swahili. Bernard told us a few days ago that he would have a few weeks off, and he was looking forward to a break to tend to his garden. The office manager tells him that a new client has just signed on for a four-day trip to the Serengeti, and it will begin next week. He will have only a few days off instead of a couple of weeks, but he doesn't seem bothered.
By 6:00 pm, we are at Rivertrees. The trip took much longer than we'd expected. Bernard unloads the jeep. I give him his choice of the two bottles of wine we bought at the beginning of the safari but never drank. He takes the Shiraz and leaves us the Cabernet, which we partly drink later in the evening. I give him a generous cash tip—in US dollars, the preferred currency.
Peggy is very sick with a respiratory cold or flu—very close or identical to what I had a few days ago. Once we check into the cabin, she's there to stay. Tommy and I walk to the dining lodge, an open-air space with a large thatch roof protecting it from the elements. I have a dinner of yellow lentils, potatoes, carrots, and zucchini. We ask the waiter for a salad to go to take back to Peggy, and he's happy to put one together.
14 April 2017: Moshi
Peggy is still sick. It seems unusual that we were both hit with a respiratory illness when our great fear had been GI-tract ailments. Peggy soldiers on, though. The three of us have breakfast in the dining lodge. Like most mornings, it is cool, and Tommy is wrapped in his shuka.
Having bid Bernard and his safari jeep farewell, we are back to Zablon and his Japanese sedan. He picks us up at 8:00 a.m. to drive us to Moshi, where we'll be having another meal with Mama and Baba Karo. It's an hour-long drive, and we are stopped four times by policemen along the way. At one of the stops, the officer bends over and looks into the car, notices the white faces, says "Driving around the wazungu?" to Zablon, and waves him on.
Zablon gives us a peculiar but pleasurable tour of Moshi roundabouts. We stop and get out at two of the three to look at the monuments erected in the center. On the way into the heart of downtown, we pass the lodge where we'll be staying tonight. It's 10:30 am, but we decide we'll try to check in. It's not a problem at all, and by 11:00 a.m., we've loaded our luggage into our two rooms. The staff are surprised by Tommy's fluent, colloquial Swahili. At one point, a woman walks out from an office and looks at him with knit eyebrows.
This lodge is a step down from the safari lodges we've been staying in. It's clean, and the staff are helpful, but the building looks like a repurposed dormitory, and the dining hall has the feel of a high-school cafeteria.
Mama and Baba Karo are expecting us for lunch, so we move on. Peggy needs some medication for her cold/flu, so we park the car in downtown Moshi, and Tommy, Zablon, and I walk around in search of a pharmacy while Peggy stays behind. I'm nearly out of cash, so the first stop is an ATM. The unit of currency in Tanzania is the shilling, which is worth a small fraction of a cent. One thousand shillings, for example, is worth forty-five cents. ATMs dispense 10,000-shilling bills—worth about $4.50 each—which is the largest denomination for the currency, and the largest amount you can request from an ATM is 400,000 shillings (about $175), dispensed as forty 10,000-shilling bills. It's a fat wad of cash. This might be one reason why US dollars are the preferred currency for transactions—even for government services. The US dollar is also less volatile and often required for purchasing foreign goods and services.
Zablon, Tommy, and I find a drug store with over-the-counter medications. I ask for acetaminophen, and the clerk hands me a cardboard box with an illustration on the front of a throbbing tooth. I also select an expectorant.
Around 1:00 p.m., we arrive at Mama and Baba Karo's house, a well-maintained, yellow-stuccoed building surrounded by corn fields. Baba Karo comes out and hugs Tommy. He greets the three of us with energetic, outsized gestures and high-flown words of welcome. Zablon is already well-known to him, since he is a tenant.
We enter the living room, a long space with couches and chairs around the perimeter of the end near the door. Gifts are exchanged. Peggy gives Mama Karo a bolt of cloth. I'm given a handmade pull-over shirt. Later, Peggy and I are measured by a neighborhood seamstress for a dress and another shirt, which are sewn and given to Peggy the next day.
Mama Karo serves a huge meal. Before eating, we must wash our hands, and as is the tradition in Tanzania, this is done sitting down. Mama Karo walks around the room with a pitcher of water and a plastic wash basin. She pours water over our hands and we rub them together. We don't dry them.
Lunch is arrayed over a long coffee table, and it includes chicken, beef, green beans, peas, beans, a savory banana dish, yams, and rice. Neighbors stop by to introduce themselves, a daughter makes an appearance, and a teenage granddaughter, Jasmine, strides in and out to help clean up afterwards.
After lunch, we take a walk through the neighborhood, first making our way through the rows of a cornfield. We pass a neighborhood school whose buildings are decorated with murals painted by students. One demonstrates principles of geometry. Another is a map of Africa with the year of independence indicated for each country. (Tanzania's was 1961.) A third is a cross-section of the human head with labels for the various parts of the brain.
We reach a broad dirt road and join dozens of other people in the middle of their afternoon stroll. Curious children stare and point at us. Tommy and Zablon walk holding hands—something I would have found odd if Tommy hadn't mentioned the custom earlier. Friends of the same gender will often take each others' hands while walking. I saw teenage boys at the open-air market lightly holding hands. Men and women, though, never hold hands in public.
After returning from our walk, we all attend the Friday-evening service at Mama and Baba Karo's church, which begins at 4:30. We ride with Zablon, and Mama and Papa Karo travel in their own car. They are devout Christians and active participants in the life of this Pentecostal church. The instrumental music is provided by two teenage boys, who switch off playing an electronic keyboard (including a drum machine) and an electric bass. The music is rooted in the traditions of American black gospel, and the boys are astonishingly talented. Their playing is tight yet laid back—almost casual. A mix of three or four male and female singers sing as a group and separately. A man in his forties officiates, and a charismatic older man—perhaps around fifty years old—preaches. The service is in Swahili, but it has a structure like services in the United States. There's singing, scripture readings, a sermon, the offering, announcements, and at the end, more singing. During the congregational singing, most members sway to the beat and move their arms. During the announcements, a young woman is called on to give a testimonial. The officiant recognizes Tommy as a visitor, and Tommy walks to the front to tell the group a bit about himself and why he is in Tanzania. Unfortunately, Peggy started coughing and had to go outside just before Tommy was recognized, so she misses it.
When the service ends, we file out and are asked to sign the church guestbook while members of the congregation mingle. Zablon drives us back to the Stella Maris lodge. It's past 6:30 p.m., but after eating the large lunch, none of us is particularly hungry. Still, we should eat something. We go to the lodge's dining hall. It is lit with harsh fluorescent light and has a linoleum tile floor. A staff member stops by the table, and we first order three Safari beers. Peggy is starting to recover and is in the mood for ice cream, which she sees on the menu. A traditional vegetable curry appeals to Tommy, and my eyes fall on a chicken burrito. The staff member returns, and Peggy asks what kind of ice cream they have. "Sorry, we have no ice cream now," he says. Tommy and I place our orders. Peggy isn't interested in eating anything else on the menu and decides to return to the room to eat some of the food she brought along, leaving Tommy and me to drink the three large bottles of beer, which, over the course of the next hour and a half, we finish.
A small flat-screen television mounted on the wall broadcasts the evening news. Tommy tells me that he and others would gather in the village to watch this national news program in the evening. Tommy mentions that the news follows a strict format: local and national news for thirty minutes, followed by two or three international news segments, and then ending with sports and business. On the day following the November 2016 US election, the news led with feature coverage of an aardvark that had been found near a local mine. Every seven minutes or so, there is a commercial break, and during the first of the breaks, we see an amusing mobile-network commercial set at a wedding. The groom's phone rings as he is about the kiss the bride. Tommy says that the actor is well known in Tanzania and is known for mobile-phone commercials where he plays all of the characters. In this one, he also plays a photographer and an old man in the audience. By the time the evening is over, we have seen this commercial five or six times, and it has lost its appeal.
We sit at the table, working on the three large beers and talking about this and that. After forty-five minutes or so, we begin wondering where the food might be. The staff member stops by and says it will be out soon, and it is. I end up wishing I'd ordered the curry that Tommy is eating, but the burrito at least is edible. We finish eating and continue talking at the table until the beers are finished, then we go upstairs to bed.
15 April 2017: Moshi, Kilimanjaro to Doha
In the morning, we return to the dining hall, which, in the daylight, has warmer and less institutional. Fresh fruit is laid out on a table, and a staff member takes our orders for eggs and meat.
At 9:00, Zablon picks us up. I load my bags into the car trunk, since I'll be flying out in the afternoon. We ride out to the Saturday market outside of town, where the vendors are just beginning to set up. There isn't much activity. I see a University of Tennessee sweatshirt hanging in one of the stalls. Someone told me that a lot of clothing donated in the US ends up in these markets, and there's clearly an odd randomness to the Western clothing we see in the stalls. We move on to another, busier, market in the city but don't stay long.
Since Tommy's first trip to Tanzania, he's told stories of his adventures on daladalas, the privately owned vans that provide public transportation in the country. They have interesting names (usually involving a religious slogan or hip hop term) and decorations (often involving a rapper). The next stop today is Mama and Baba Karo's, where we'll have lunch, and Tommy proposes that we take a daladala. Peggy has no interest in riding on one, but I'm game. The experience is as Tommy has described it: crowded and a bit chaotic. We don't leave until the daladala has mostly filled, and we drop off and pick up passengers several times along the trip. It cost 400 shillings (about $.35). Our trip ends at another open-air market about a quarter mile from Baba and Mama Karo's. By this time, hundreds of shoppers are out, and the market is bustling. We weave through the crowds and dodge the pikipiki motorcycles and hand carts. I see a woman walking along with a live chicken poking its head out of her shopping bag. The head jerks from side to side. A couple of teenage boys walk by holding hands. A young man struts along wearing a "Duck Dynasty" t-shirt.
As we approach Baba and Mama Karo's, we stop by a corn mill. It is a recent business venture of Baba Karo's, which he set up recently after officially retiring. Mama Philipo, a tenant of the Karos, is working the machinery. She recognizes Tommy and welcomes us. She sees that we're interested in seeing the mill do its work. She flips a switch, and the room is filled with the roar of a loud turbine. Tommy leans in to me and says, "She doesn't wear ear protection," and raises his eyebrows. The fact that loud noise can damage hearing isn't generally known in Tanzania. She picks up a burlap sack of dried corn and pours it into the hopper. A grinding sound is laid on top of the whir of the turbine, and cornmeal starts flowing out the spout. She continues her work while Tommy and I look at the switch and fuse boxes mounted on the far wall. They are labeled KUSAGA (grinding) and KUKOBOA (hulling). We wave farewell to the young woman, and after crossing another small field, we're at Mama and Baba Karo's.
Mama Karo's brunch is another fine meal, but it's a less elaborate production than yesterday's. We have a traditional Tanzanian dish that I saw on the menu at the lodge last night and almost ordered: an egg dish that is essentially a French-fry omelet. There is also a bowl of beignet-like pastries and another of watermelon. After brunch, Baba Karo plays the DVD of their daughter Rehema's wedding reception, which looks very much like the wedding reception of a well-off American family—a buffet dinner in a large room, guests seated at round tables with white table cloths, tributes to the bride and groom, music. Baba Karo explains a stylized traditional wedding ritual as it's played out. ("This is where she is seeking him." The bride looks around over the crowd. "But he doesn't see her." He points to Marko, the groom, whose gaze is intentionally directed away from his bride.) After the wedding DVD is over, he inserts a DVD of a slickly produced concert of white American gospel music, The Church in the Wildwood. The principal performers are Bill and Gloria Gaither, and this description from the Gaither website sums up the content:
Are you looking for a place where you can escape the uproar of life and listen for the voice of the Creator? Then follow the Homecoming choir to a little church in the wildwood where they sing cherished hymns about an old time preacher man, Jonah and the whale, and heavenly sunlight. Rev. Franklin Graham joins Bill Gaither and friends for a video retreat in the mountains of North Carolina, where you can hear God on the mountain. Peggy recognizes several of the hymns which were sung in the Methodist church in Massachusetts where she grew up.
We say farewell to our generous hosts at 12:30, and Zablon drives us to the airport so I can make my 3:25 flight. On this trip he is stopped only twice by the police.
The twenty-three-hour-long flight back begins with a forty-five minute flight from Kilimanjaro to Zanzibar followed by a frustrating hour-long layover in Zanzibar during which those of us headed on to Doha stay on the plane as the crew cleans. Two hours after leaving Kilimanjaro, we're finally off to Doha, arriving at 11:15 p.m. local time.
16 April 2017: Doha to Philadelphia
The flight to Philadelphia doesn't leave Doha until 1:10 am, so I walk back and forth along the long, high-ceilinged central corridor until a line starts forming at the security gate. I make it through security without a problem, and the flight to Philadelphia is long but comfortable. I watch the most recent Star Wars movie (the one with Harrison Ford and Carrie Fisher) and start writing this narrative. After landing in Philadelphia a little after 8:00 a.m., passage through customs is swift, and before long, Lisa picks me up, and I'm headed home.
[A more complete selection of photos is available on Google Photos.]