Introduction to Eightieth Anniversary Issue of Notes
| tags:

Music librarianship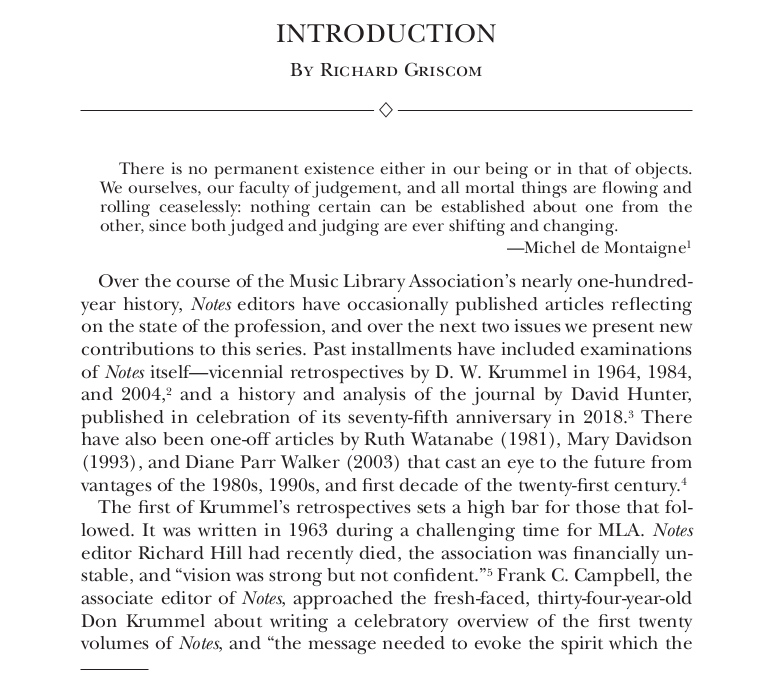 The first issue of Notes, the journal of the Music Library Association, was published in July 1934, and the publication of the September 2023 issue marks the beginning of the eightieth volume of the journal.
I was editor of Notes from 1997 through 2000, and my editorship is remembered mostly for the set of essays I commissioned to mark the profession's transition into the twenty-first century, Music Librarianship at the Turn of the Century (Notes, 56, no. 3 (March 2000)).
In March 2021, I received an email from Notes editor Jon Sauceda, who suggested it was time for another expansive look at the state of music librarianship. He saw the March 2000 issue of Notes as a possible model and asked me, as editor of that issue, to join him in assembling a new set of essays. I gladly agreed to help. Two decades had passed since the publication of the 2000 essays, and the time seemed ripe for another close look at the profession. Jon and I worked together on selecting the topics and commissioning the essays, and he asked me to write the introduction.
This anniversary issue has hit the streets, and my introduction is available wherever you get your scholarly journals, at DOI 10.1353/not.2023.a905309.