Article on Music Cataloging and Technology Published
| tags:

Technology

,

Music librarianship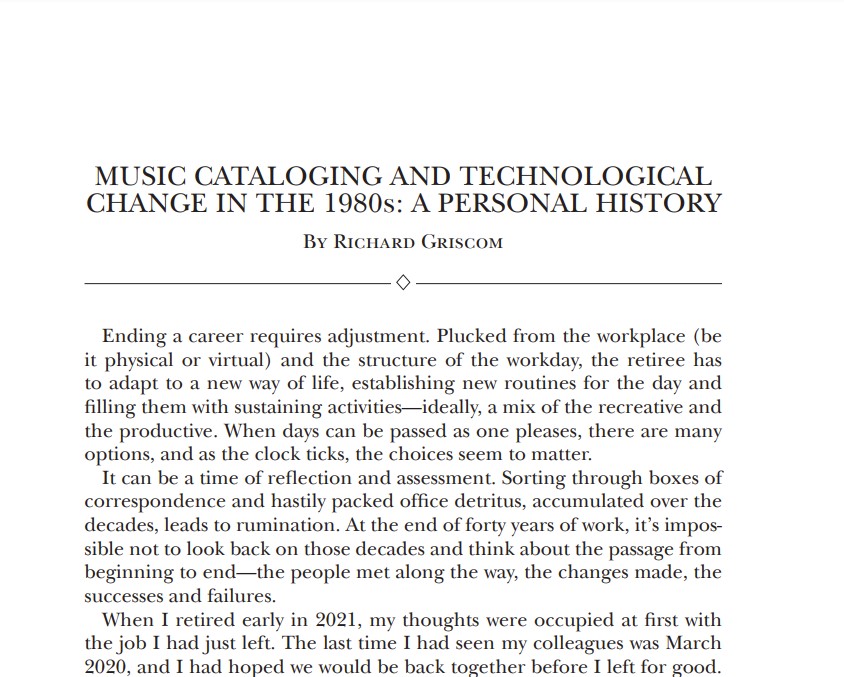 Soon after I retired in January 2021, I began writing a memoir of my days as a student and early-career music librarian. Early drafts centered on Ralph Papahkian, my cataloging teacher at Indiana, who later became my mentor and friend. I passed this draft by Jon Sauceda, editor of Notes, who encouraged me to broaden the scope and recast it as an article on the changes that technology brought to music cataloging in the 1980s. The article has been published in the September 2022 issue of Notes (the DOI is 10.1353/not.2022.0062) and an open-access preprint is available from the University of Pennsylvania's institutional repository, ScholarlyCommons@Penn.
Here is the abstract for the article:
After decades of relative stasis, library technology underwent transformational changes in the 1980s. Over the course of a few years, the introduction of shared online cataloging, the local online public catalog, and electronic mail changed the way librarians did their work and ushered in a period of technological innovation that continues today. The author offers a first-hand account of the impact of these technologies in the 1980s, when he was a graduate student and early-career music librarian.
I presented the earlier version of the article—the remembrance of Ralph Papakhian—at the fall 2021 meeting of the Midwest Chapter of the Music Library Association, and it is available for reading (in a long and short version) and viewing (in two parts).